Thermotec bathroom ladders
quality solution from Germany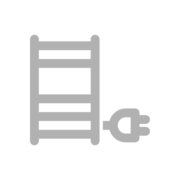 Easy control
The bathroom ladders from the German manufacturer Thermotec AG have their surface finished with high-quality powder paint, the same as all the heaters have. It is easy to control them by means of the controller with the back-illuminated, temperature setting buttons and 2-hour timer. The bathroom ladder has its own overheating protection. You can make your choice from between the power ratings of 400W and 1000W.
The bathroom ladders are intended only for drying of your laundry and towels. It our opinion, they should not be used to heat up the bathrooms in respect of economy. It is better to select one of the AeroFlow panels to meet the purpose. The heating storage panels have the protection coverage ipx3, being also suitable into bathrooms.
Our range
of the Thermotec bathroom ladders offered
Any questions?
we are ready to provide you with advice on any topics