Heating panels AeroFlow
a modern type of heating with electricity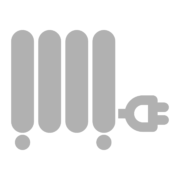 Low consumption

Zero maintenance expenses

Suitable into residential, commercial and holiday facilities and historical buildings
The panels come at the rating from 650W to 2450W, intended to heat normally encountered large rooms. A properly selected combination of multiple heaters is enough to heat up also halls and modern capacious spaces of the "open concept" type. When powered by the cheaper electricity at the D57d rate (formally D45d) the AeroFlow storage panels pose one of the most economical forms of heating.
Our range
of the AeroFlow heating panels offered
YOU HAVE THE HEATING FULLY UNDER CONTROL
The AeroFlow heating panels allow a comfortable and accurate temperature control in the individual rooms thanks to the built-in FlexiSmart thermostat. You can control it manually, set up a time schedule or connect it with a wireless device and control the temperature throughout the house from your mobile phone or tablet.
IT IS IMPORTANT TO PROPERLY SELECT THE HEATERS
The rule of "THE BIGGER THE BETTER"applies here as a larger-surface fire-clay core will maintain more heat. The room will thus be heated up quicker and it will take shorter time to reheat it to the desired temperature. Our recommendation is to select slowly and providently; we are ready to help you select the heating panels.
Do you need our advice in making your choice?
Don't hesitate to contact us, it'll be our pleasure to consult your purchase order with you.